Keen followers of this part of The Hazel Tree will probably be wondering what on earth has happened to me over the last few weeks.
I've been doing quite a bit of napping – there are so many places to take a nap, all of them very comfortable.
But also – because you know how keen I am on wildlife – I have been rather busy in a new and exciting conservation role.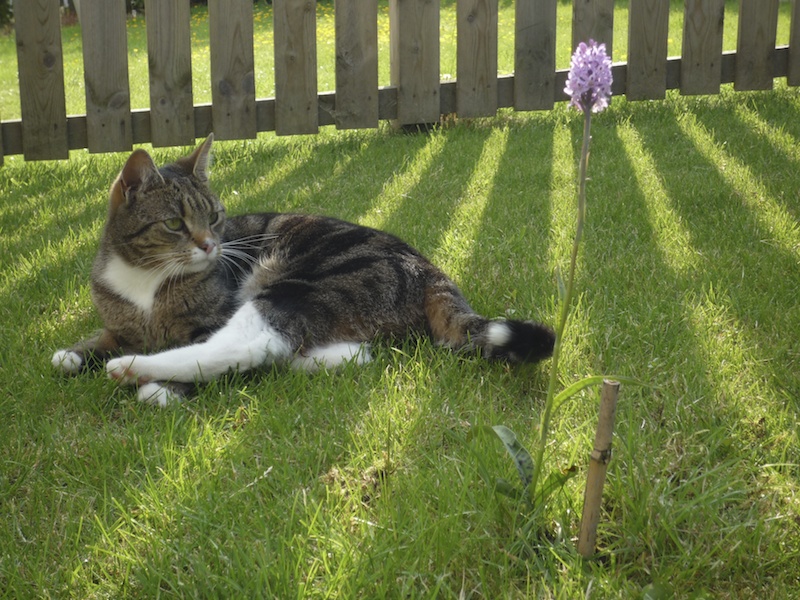 This little pink stick of a plant (which is just asking to be bitten) is apparently a wild flower called a common spotted orchid.   It's growing in the lawn, and has been marked with a short cane just in case the mower goes anywhere near it.  I've chewed the stick, but any attempts to chew the plant have met with an alarmed response, which was quite exciting in itself.
I'm therefore guarding this rare and precious specimen, just in case any marauders come anywhere near it.  I've set up a nature reserve, and I'm thinking of charging a fee for anyone who wishes to come and inspect it.  What do you think… one vole, or perhaps two, and three for a family?  You can't put too high a price on the natural world.   It's my third birthday round about now, so if I collect enough voles we'll have a barbecue and I'll rustle up some of my world famous vole-au-vents.
Admission will be between 8 pm and 10 pm, during which time I will be hosting a champagne reception and soiree.  You'll have to imagine the champagne.  Afterwards, I'll be re-locating to the front of the house, to see if I can catch some moths in the twilight (such good sport, and so juicy).
See you there!
Stay tuned for news about my fluffy friend Ponyo and her new and interesting room-mate!